I do enjoy creating goods for Pickleberrypop's Pickle Barrel, it's even more fun when it's a colour palette I love.
My Collection is all about enjoying crafting, from painting to sewing to scrapbooking! My favourite pastime! I think this is a subject we can all relate to. How many times have you spent hours creating, getting so engrossed in what you are doing and before you know it, it's time to get the evening meal on the table and oh boy, it is really hard to leave what you are doing! It's happen to me many a time, I have a lot of passion for crafting.
This collection can show off products you have made, as well as pictures of you, your friends or your children getting creative.
The Craft Bug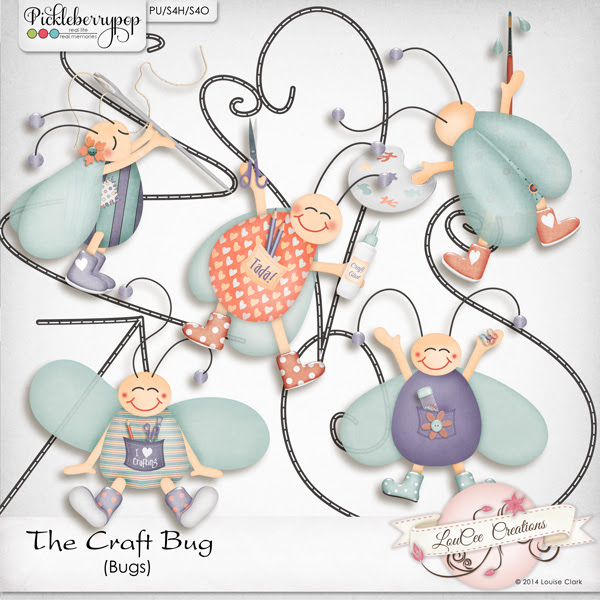 All these packs are just ONE DOLLAR each!
And if you buy all six…


Then you will get these fun crafty journals FREE (they are added in the 6 pack download automatically)


There was so much I could add to this kit, so I made an add on too! This is 40% off
The Craft Bug Add On


Here are a couple of pages I did of my children. We would have a regular summer holiday at Grandma's by the sea in Norfolk, The kids used to enjoy picking shells off the beach and decorate old plates with them, sometimes they even painted the shells.


Excuse my daughter with no t-shirt on, but it was much easier to let her paint this way and then dunk her straight in the bath haha! She was such a creative little bug, as she grew older she was so interested in life around her, she used to make things that she could play with. She once made a loop hearing system for a deaf person and would wear it all the time, it was so intricately made.
and some more eye candy from my CT.
by Jenni
by Deia (1)
by Deia (2)
by Vick
I have TWO word art freebies for you this week.
this one is exclusive to my newsletter readers!

And you can download this one here

***stop press*** My store @ Pickleberrypop is 40% off and all collections are only $6.00 for a few more days!
Have a happy and crafty weekend all!
Lou x