Well it has been another hectic week for me and I am ONLY just getting round to show and tell you of my latest collection!
I've been super busy in my new home sorting out faulty electrics, lighting and transforming a garden shed into a little dog grooming shack where I can groom my Standard Poodle and a few other dogs too!
My little dog shack is now complete and has been christened by one of my favourite dogs I groom, Izzy Pop has taken to my new home and salon really well and couldn't wait to get inside my house to investigate, her first port of call has always been the kitchen to see if Roman's dog food bowl is on the floor! this new house was no different..

My Let's Talk Turkey Collection is part of the Gingerscraps Buffet, everything is 50% off through to Nov 6th.
Let's Talk Turkey Collection is on sale for only $6.00! and includes, the Page Kit Elements, Page Kit Papers, Plaids, Alpha, Words, Frame Clusters and a free Messy Background.


This Messy Background is included **free** with the collection

All parts are also offered separately and are either $1.50 or $1.25 a pack.


This beautiful page was created by Jenni.

This page is by Theresa, doesn't she have the cutest Turkey!
I love the layers of clustering on this page by Lisa
This page is by Vick, what awesome pumpkin carvers!
Here is a freebie for you today, another Messy Background!
Enjoy.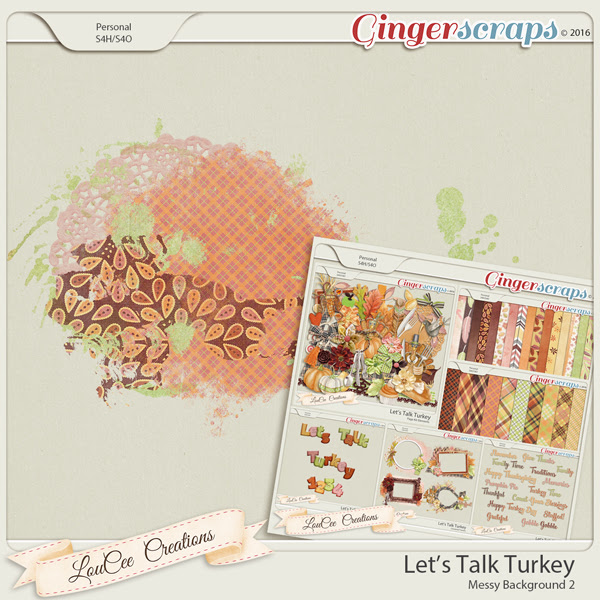 Have a great weekend all!
Lou